Eight ladies from the Saratoga Niners joined golfers from around the bay area at the 10th Annual Golf Tournament in support of the Bay Area & Western Chapter of the Paralyzed Veterans of America. Members of the Niners who could not attend in person sponsored eight vets in participating in the actual tournament as well.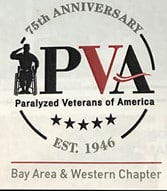 The scramble tournament was held at Palo Alto Hills Golf and Country Club on July 26th. The event was held in conjunction with a live auction and raffle all donated by generous sponsors. The funds raised from the event will support PVA members through programs such as adapted sports and recreation programs. The BAWPVA sports program sponsors quad rugby, wheelchair bowling tournaments and PVA members to attend various sporting events at the Paralympics, National Veterans Wheelchair games and many more.
Best of all – it was a great day out for a fantastic cause with amazing people.
We thank you for your service.